Energy 101
FAQs About Energy Suppliers
No. In New York you have the freedom to choose your natural gas and electricity from any approved Energy Services Company (ESCO).
Your natural gas and/or electric bill has two main components – supply and delivery. New York gives consumers the right to shop around for the supply portion, and that is what an ESCO will handle for you.
No. An approved ESCO will deliver your natural gas and electric to the local utility company. The utility company will continue to deliver energy to your property via their infrastructure. The safety and reliability you have come to depend on from your utility provider does not change.
Whether you're looking at your gas or electric bill, supply represents about 40%. This is the portion of the bill that an ESCO can often provide better lower rates than a utility company. If you spend $100 a month on a bill, an estimated $40 is spent on supply.
No. Delivery rates are established by the New York State Public Service Commission and not subject to energy market volatility. Delivery charges allow utility companies to maintain and upgrade their infrastructure for safe and reliable service.
Yes, and they mostly result in savings! With certain utilities, there may be sales tax incentives may be waived on delivery charges when you choose to purchase your energy from an ESCO, which often results in a 50% savings. The Merchant Function Charges may also be removed from your utility invoice when choosing an ESCO for your energy supply. These can be state- and utility-specific, so it is important to know the incentives that are specific to your locale. We can help!
Utility company supply costs can change monthly, but our fixed rate plans set your cost for a specified contract – as little as 6 months, and up to 2 years. The fixed rate option can protect your rate from increasing with market changes, which can also be helpful in setting your energy budget.
The energy supply costs associated with variable rate plans are subject to market fluctuations and can change month to month. These plans can be effective for customers who want to leverage those fluctuations to their benefit, but require close monitoring. The ESCO you choose should exhibit a willingness to be your active partner in monitoring those trends.
Your utility company will still deliver your gas and/or electric and provide all customer support functions, including system maintenance, emergency response and restorations of service following outages. The safety and reliability you have come to depend on from your utility provider will not change.
Yes. Reliability of your energy supply does not change when you work with an ESCO for your supply-side needs. Your chosen utility company is required to deliver natural gas and electricity to your property, without interruption, through their wires and pipes.
Your utility company will remain a key partner in your energy plan, even if you buy your supply from an ESCO.
Your utility company will maintain its delivery systems for safe and reliable delivery.
Your utility company will continue to read meters and provide customer service.
Your utility company will be is the only authorized agent to shut off/turn on services.
Your utility company will be the primary contact for natural gas or electric emergencies.
You will remain a customer of your utility company for delivery service.
There will be no change to your current billing – one payment, no problem. Your supply and delivery charges will appear on the same bill, provided by your utility company.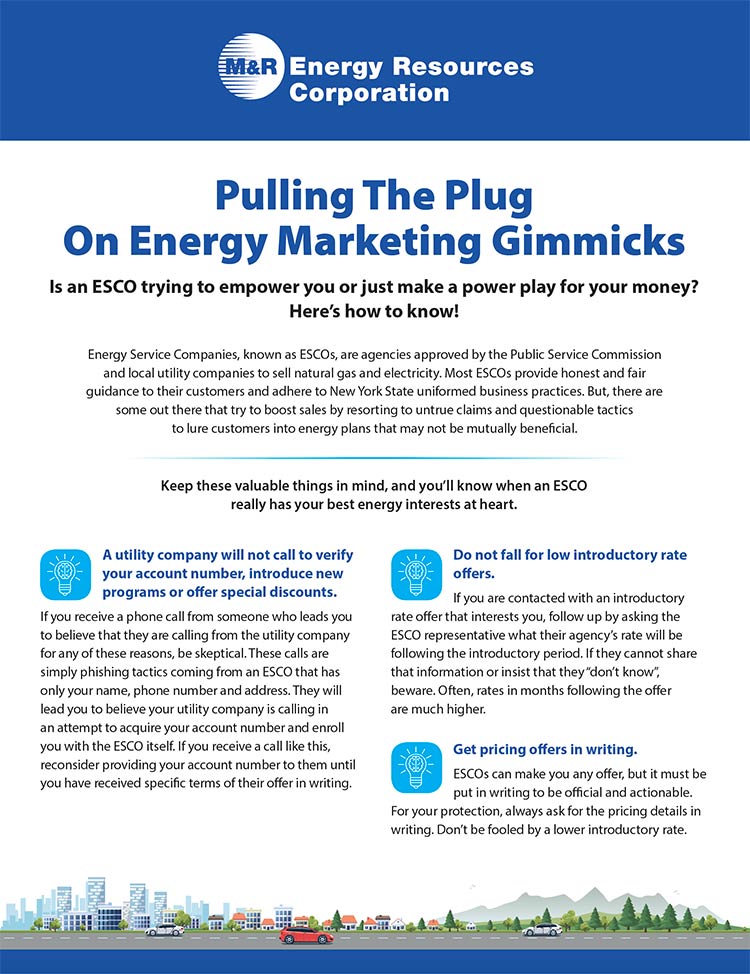 Don't Get Duped. Pull the Plug on Power Gimmicks!
Download our FREE flyer today and don't get fooled again.